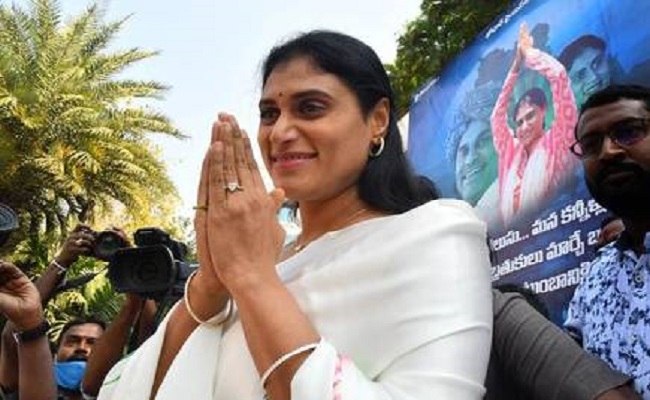 For the past two years, the YSR Congress party government in Andhra Pradesh has denied advertisements sponsored by Vemuri Radhakrishna to the Andhra Jyothy Telugu newspaper headed by Chief Minister YS Jagan Mohan Reddy.
While its other publications including Eenadu and Sakshi are receiving advertisements worth crores of rupees, the Jagan government has not given any advertisement to Andhra Jyothy, even though it is third among newspapers in terms of circulation.
The reason is simple: Andhra Jyothy has been pro-Telugu Desama and anti-YSRC and has been spreading stories against the Jagan government every day.
And Jagan has been quite open about his stand against Andhra Jyothy and Radha Krishna.
But surprisingly, on Thursday, Andhra Jyothy got a full-page jacket ad in the Telangana edition – from Jagan's sister YS Sharmila at the launch of her new political party – YSR Telangana Party in the evening.
The ad has pictures of YSR and his widow YS Vijayalakshmi, but not Jagan.
Interestingly, the ad was not seen in Eenadu, despite being the No. 1 daily in Telangana and Sakshi, which is promoted by his brother Jagan Mohan Reddy.
This is despite both newspapers running curtain raiser stories on the launch of Sharmila's new party.
So Sharmila doesn't mind befriending Andhra Jyothy, who is seeing her brother as an enemy of Andhra Pradesh!