Blue Lotus toasts the entrepreneurial spirit of artisans from Telangana and Andhra Pradesh. As this network of weavers, dyers and designers turns seven in November, the team led by Dharmendra Vaddepalli looks back on its journey.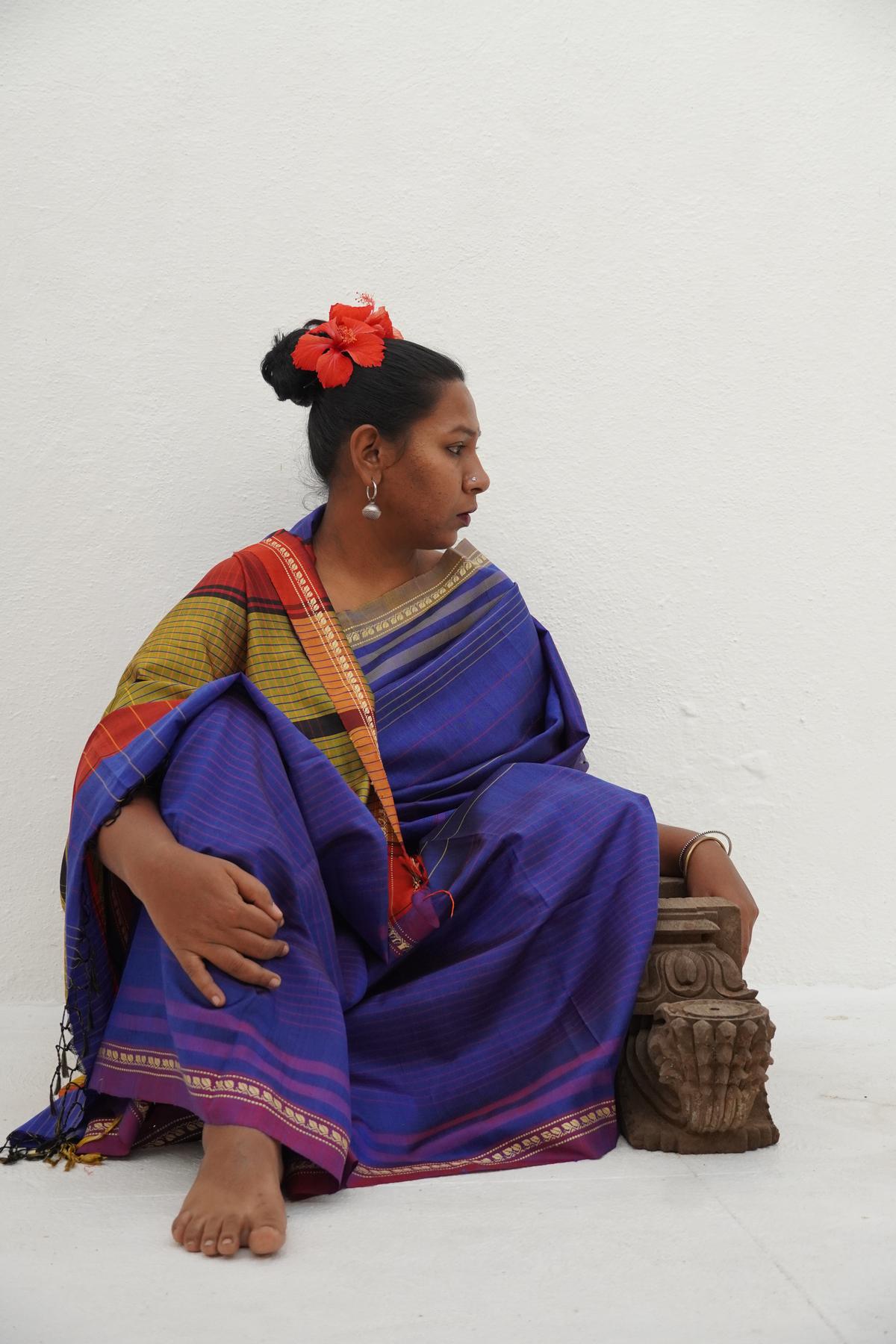 A model displays a tussar award | Photo: Special arrangement
""The blue lotus is represented in Buddhism as a partially opened flower that symbolizes excellence and the perfection of wisdom. Our journey at Blue Lotus is in this quest for knowledge and excellence," says Durgalakshmi Venkataswamy, who co-founded the organization in 2015 with Dharmendra.
Textile technologist Durgalakshmi, one of the founding members of Khamir, a platform to showcase Kutch's handicraft heritage, and Dharmendra, an arts graduate from a textile community, worked together before establishing Dastkar in Andhra (which works directly with handloom cooperatives). up Blue Lotus. Blue Lotus was conceived as a means of providing value to three entities: artisans, customers and entrepreneurs (who bridge the gap between the two).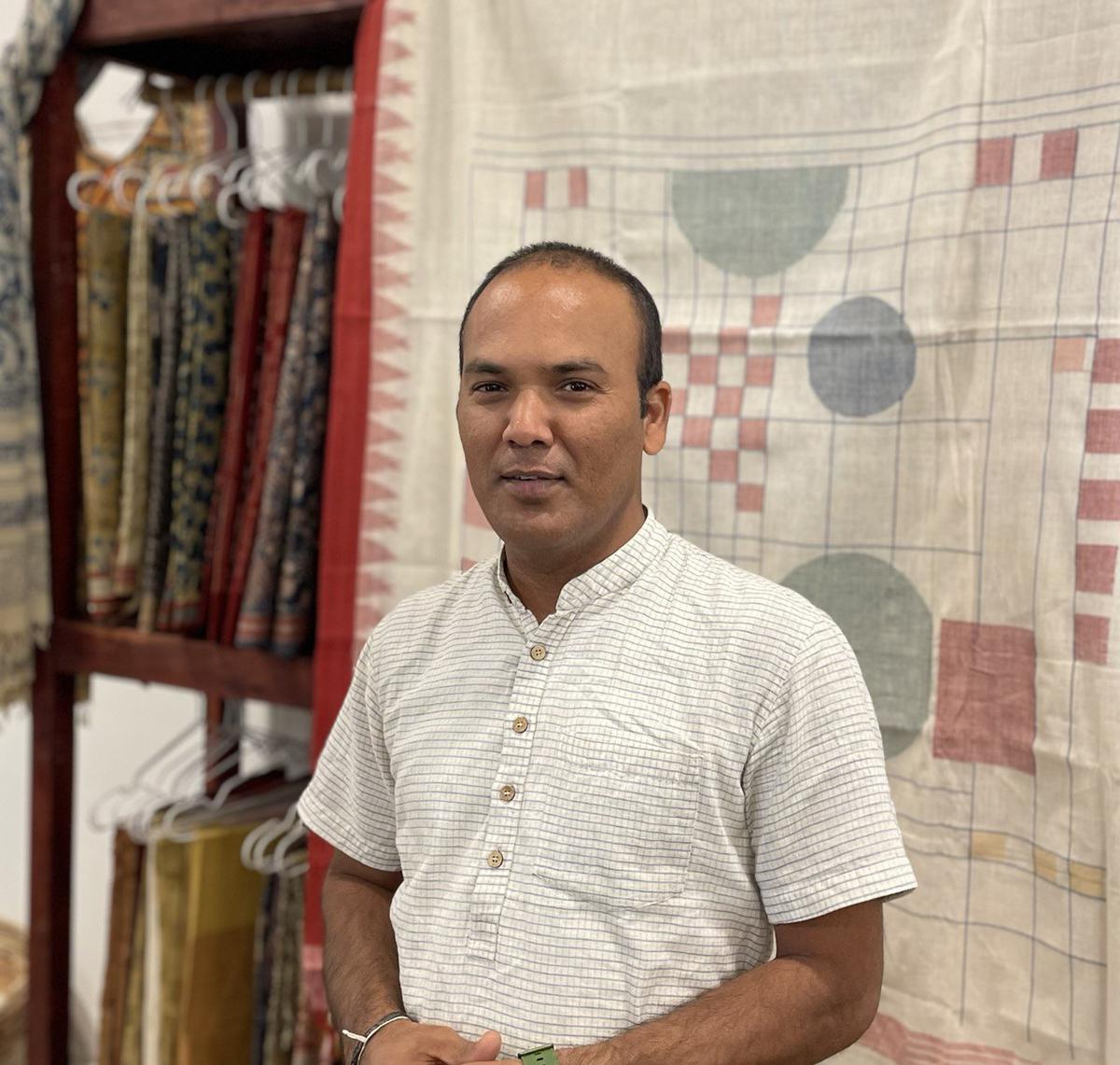 Dharmendra Vaddepalli | Photo: Special arrangement
"The material (cotton) and the manual weaving process are sustainable and environmentally friendly, but what is needed to sustain the organizations that make up the ecosystem of a company? It should give reasonable value to the maker (weaver), the organization and the customer," stated Durga.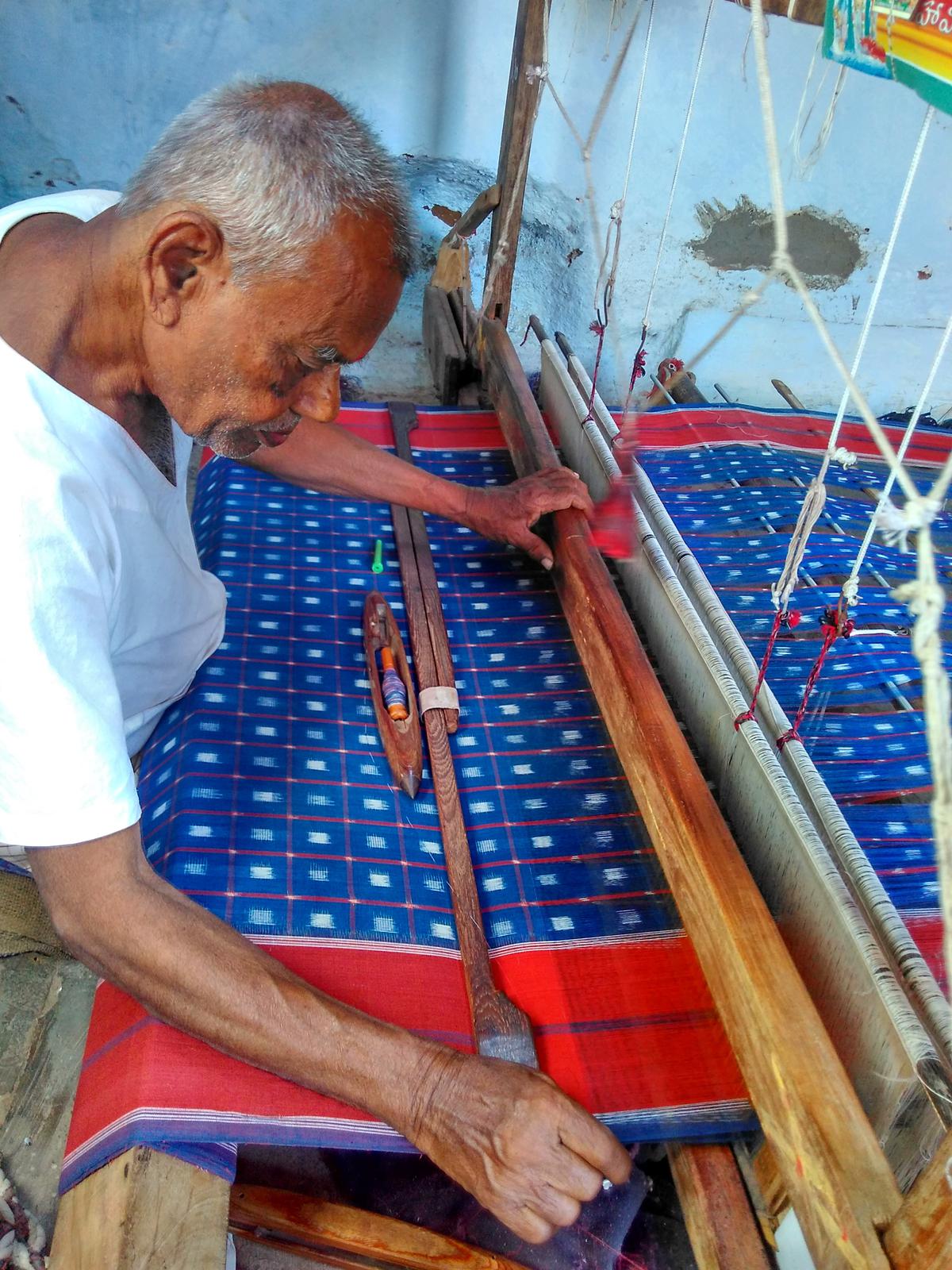 A weaver at the loom | Photo: Special arrangement
Located on the second floor of the Telangana Handicrafts Council in Banjara Hills, Blue Lotus tells the stories of exquisite textile traditions and hand-made weaves. "Each region has a unique handloom and we aimed to build a community, putting that identity at the forefront," he says.
The Blue Lotus team consists of Dharmendra, the face of Blue Lotus, Panchala Narasimha Rao (dyer) and Kurma Sambasiva Rao and Reddam Narasimha who manage production and stock. The company is associated with 55 looms, over 50 weavers and seven dyers in the two Telugu speaking states.
Blue Lotus' product line includes handmade sarees and garments supplied to brands like Nalli Silks and Fab India and a sustainable denim line that is exported.
Experiment with natural dyes

Chirala-based weaver Yaarasi Venugopal has been associated with Blue Lotus since its inception. With over 15 years of experience in textiles, Venugopal's switch to textiles came in 2016 after learning the difference between non-azo (chemical) dyes and non-azo (natural) dyes. The Vijayawada native moved to Chirala to set up a natural dyeing center and dyed around 20 bales (1 bale = 100 kilograms) to supply weavers in Chirala and Narayanpet in Andhra Pradesh and also in Tamil Nadu. Using indigo blue, pomegranate, sappan wood, katha and ratanjot dyes, Venugopal has charted the history of his cultivation over the past eight years. "I was able to rent 300 square meters of space, buy a 520 square meter plot of land and employ eight people," he says.

Sixty-six-year-old Kodabati Krishna Rao of Ponduru worked at various levels in the Ponduru Cooperative Society. Although she learned to dye at home, her interest in natural dyes increased after she retired. "We can only dye 10 kilograms at a time, the shades are not always the same," he says. Today his unit has 22 weavers producing about 100 meters of cloth for saris and dupattas.

A mix of natural dyes and design interventions adapted to market needs helped them revive the traditional ikat cotton netting of Koyyalagudem in Nalgonda district (2018). Four families in the village were offered ₹4,000 per prize (against ₹2,000 they would have won for a chemical dye prize earlier) to experiment on the looms. "Consequently, the 25 awards made that month soon found a buyer who agreed to buy the awards for a year. With renewed confidence, the weavers could continue without our help," added Dharmendra.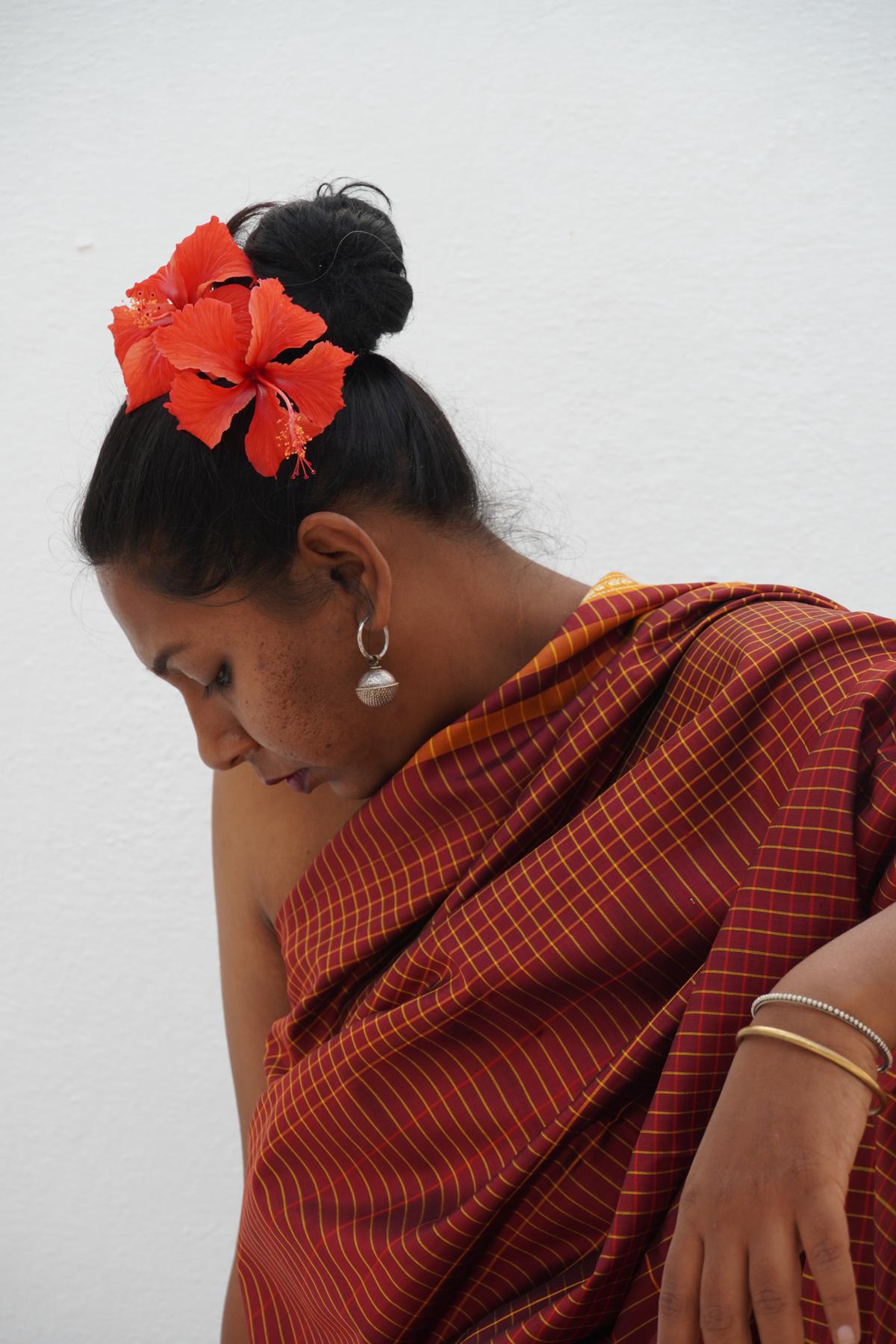 This also helped stop the migration of weavers. For example, Karnati Vasudev, who used to work as a salesman in a jewelery shop in Hyderabad, is now the proud owner of three looms in Koyyalagudem, where he has employed three people. "In 2017, leaving a job was a risk to return to my village," Vasudev recalled. Back then, she used to weave five ikat cotton saris from Blue Lotus to earn around ₹20,000. "Now we run our own company and weave about 12 saris from three looms, with which we have a profit of ₹ 20,000. I am happy that I am also able to provide employment."
Blue Lotus handloom encounters at Gadwal (with gold zari sarees), Madhevpur near Kaleshwaram (handloom tussar), Ponduru at Srikakulam (using khadi jamdani), Kamalapur in Karimnagar in 2019 It has been an experiment with natural dye at the Handloom Society. a feather in their cap. "Denim typically follows a twill weave pattern with two threads woven together," explains Dharmendra, adding, "We used four naturally dyed threads to weave a distinctive denim." The group has produced around 2,000 meters of indigo denim for brands such as Sonica Sarna.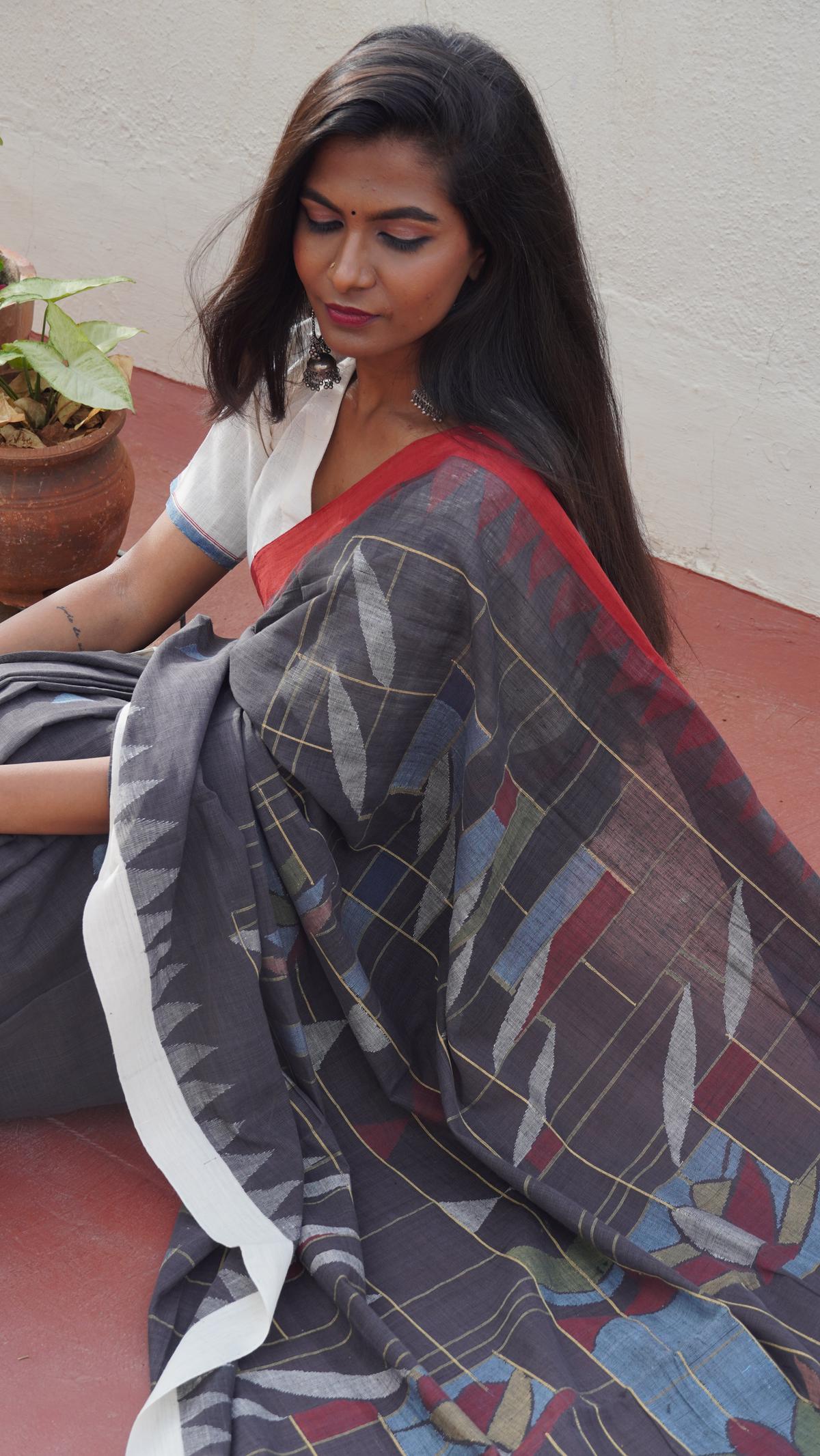 A model in a jamdani saree | Photo: Special arrangement
Dharmendra strongly believes that a change in approach will give a boost to the handloom industry. "People should see a weaver as an artist, as a creative person and not just as a job. Likewise, those who are passionate about working in the sector should think about how to move forward, not just what they will earn. Only when you put faith in the weavers will they believe us.'