Sunak says 'lots of people' have concerns about Scotland's gender recognition bill as he confirms it could be blocked
Rishi Sunak is on a visit this morning and he has given an interview. As the Sun's Natasha Clark reports, he said "lots of people" were concerned about Scotland's gender recognition reform bill and that the UK government was right to consider the case for blocking it.
UPDATE: Here is the full quote. Sunak said:
Lots of people have got concerns about this new bill in Scotland, about the impact it will have on women's and children's safety.

So I think it is completely reasonable for the UK government to have a look at it, understand what the consequences are for women and children's safety in the rest of the UK, and then decide on what the appropriate course of action is.
Given that the majority of unions representing the majority of unionised Action for Change staff have accepted the pay deal, we will now move to implement this record pay deal.

We believe it is right to get additional money into the pay packet of NHS staff in the midst of a cost of living crisis.

Yousaf said he had no more money for pay in 2022-23. But he said he would continue to talk to unions "on significant non-pay issues that are important for the sustainability of the workforce, and also how we make early progress on next year's pay deal".

Richard Adams

The House of Lords' scrutiny committee has issued a stern warning to the Department for Education (DfE) over its plans to recruit teachers from overseas to fill gaps in classrooms, saying it is "worried about whether there is a coherent, holistic plan for the teaching workforce in England".

In a report examining the DfE's amendments to the way overseas teachers can be approved to work in schools, the Lords committee said the explanation supplied by the department "was inadequate, omitting key information on the policy, how it was formulated and its implications for the teaching workforce in England".

The changes were to replace the rules for qualified teacher status used when the UK was a member of the EU. The Lords committee upbraided the DfE for supplying projections that suggested its new rules would increase the numbers of teachers coming from overseas, when in fact they would be 40% lower than in 2019-20.

The Lords said the DfE was "reluctant" to supply the information it used in drawing up the new policy, and when it did, "the data did not entirely support the department's assertions".

The report also warned that the new regulations should not be used "to compensate for falls in recruitment from [European] countries by recruiting more from developing countries that may have a pressing need for, and shortage of, skilled teachers".
Majority of voters believe 'nothing in Britain works any more', poll suggests
A majority of voters believe that "nothing in Britain works any more", according to a poll published by GB News.

According to the People Polling survey, 57% of people either completely agree (18%) or somewhat agree (39%) with the proposition that "nothing in Britain works any more". Among people who voted Labour at the last election, the total is 67%. But even among Tory voters from 2019, 50% of them think nothing works.

Asked who would best manage the strikes as PM, Keir Starmer (on 22%) beats Rishi Sunak (on 14%) but they are both well behind neither of them (on 40%). This broadly reflects the voting intention polling which has Labour on 46% and the Conservatives on 22%.

And there is more bad news for Sunak in the question on who has been the most competent PM of 2022. Boris Johnson is ahead (with 32% of people saying he was the most competent one), with Sunak not far behind (on 29%) and Liz Truss out of the running (on just 3%). But among people who voted Tory in 2019, Johnson is on 62%, and Sunak just 22%.

People Polling surveyed 1,148 people on 21 December.

Matt Goodwin, a politics professor and specialist in populism, says he has never seen people so fed up.
I've done a lot of polling but I've never seen the British as fed up, exasperated & disillusioned as they are today. Much of the country say "nothing is working", expect the future to be even worse & simply don't believe anybody in our current political class has the answers

— Matt Goodwin (@GoodwinMJ) December 22, 2022
NHS physiotherapists plan strike action in January over pay
The Chartered Society of Physiotherapy has announced that its members in England will take strike action in January over pay. The exact dates have not been decided yet, but the physiotherapists are likely to walk out on consecutive days in different parts of the country.

Claire Sullivan, director of employment relations and union services at the CSP, said:
As a former physiotherapist myself, it is deeply sobering to be asking our members to take strike action. I know what an incredibly difficult decision it will be for people who want nothing more than to do the job they love for their patients and to be fairly paid for doing so.

But every day I see the damage being done by the workforce crisis, with long waiting times, overstretched services , and exhausted staff struggling to make ends meet.

Amidst repeated warnings from the CSP and other unions, this crisis has been more than a decade in the making. It simply cannot continue and the government must make an improved pay offer that helps us recruit and retain the workforce we need while also enabling staff to cope with the worst cost of living crisis in recent memory.
Rishi Sunak got a pleasant surprise when he was serving breakfast at a centre for the homeless in London this morning. Sunak is a former Goldman Sachs banker and his government is implementing policies that are strongly pro-City. It is assumed that homeless people are generally not hugely in favour of all of this. But, according to this ITV clip, one of the men being served by Sunak told the PM he was interested in finance. "When finance is doing well, we all do well, don't we, in London," he told the PM. Sunak said he was "abolutely right".
"Are you sorting the economy out?"

"That's exactly what I'm trying to do," Rishi Sunak responds to a homeless man at a London shelter today while serving him breakfast

The PM says the government has pledged £2 billion to tackle homelessness and rough sleeping over three years pic.twitter.com/cQNcyeNeqh

— ITV News (@itvnews) December 23, 2022
Steve Barclay accuses RCN and GMB of trying to cause 'maximum disruption' with new strikes
Steve Barclay, the health secretary, has issued a response to the announcement of new strike dates by the Royal College of Nursing (see 11.12am) and the GMB (see 12.42pm). He has accused them of trying to cause "maximum disruption" at a time when the NHS is already under pressure.

He said:
While union members will not be going ahead with strikes over Christmas, we are disappointed they have announced further co-ordinated strikes in January to cause maximum disruption at a time when the NHS is already under extreme pressure.

Ambulance staff on picket lines have been raising concerns about working conditions and handover times, so it is important to use this extra time to keep talking about how we can make the NHS a better place to work. However, the unaffordable pay demands of unions would mean taking money away from frontline services and cause further delays to care.

Strikes are in no one's best interest, least of all patients, and I urge unions to reconsider further industrial action to avoid an even greater impact on patients.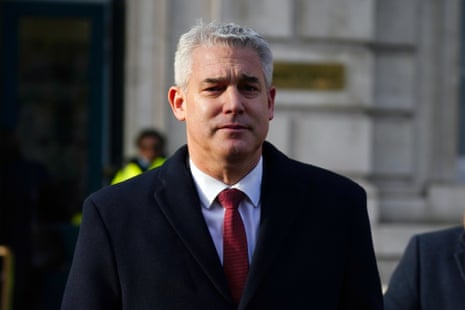 Scottish and Welsh governments condemn cuts to funding for councils for Ukrainian refugees
The Scottish and Welsh governments have urged Michael Gove, the levelling up secretary, to urgently reconsider a decision to cut the funding provided to local authorities to help them manage when Ukrainian refugees move into their area.

From January the funding for each Ukrainian arrival will go down from £10,500 to £5,900.

Gove's department announced the change last week as part of a package of measures which also included a £150m UK-wide fund and a £500m fund for England, both aimed at councils needing to house Ukrainians, and thank you payments for Britons hosting Ukrainians in their homes going up to £500 a month after a year, from £350 a month.

Referring to the cut in per-person payments for local authorities, Neil Gray, the Scottish government's Ukraine minister, and Jane Hutt, the Welsh government's social justice minister, said in a joint letter to Gove the decision should be urgently reviewed. They said:
The changes announced amount to a reduction in funding available to help people fleeing Putin's illegal war in Ukraine settle into a new home.

"In the face of continued and acute need, it is counter-productive and short-sighted to cut vital funding available to deliver public services to the most vulnerable …

Those arriving from Ukraine deserve the same care and support which we provide to those arriving from Afghanistan or through the UK resettlement scheme.

The approach and funding model used under those schemes is internationally recognised as good practice and supported by each of our governments.

The decision to undermine the success of this safe and legal route to the UK is at odds with recent UK government claims about a generous approach.
In a written statement this week, Hutt said around 2,400 visas had been granted to Ukrainians planning to travel to Wales. "If all were to arrive after 1 January, Welsh local authorities would receive £14.16m compared with the £25.2m which would have been available when the visa applications were initially made and supported," she said.
Private ambulance firms cashing in on strikes and NHS under pressure
Private ambulance companies have been cashing in on strikes and long response times to 999 calls by charging hundreds of pounds to ferry stricken people to hospital, my colleague Anna Isaac reports.
Armed forces personnel to receive extra £20 per day if they cover for striking workers over Christmas, MoD says
The Ministry of Defence has announced that members of the armed forces who have been filling in for public sector workers on strike will receive modest top-up payments.

More than 1,000 personnel from the military have been trained to cover jobs such as ambulance driving or checking passports, and they will receive an extra £20 per day, the MoD says. In a news release it says:
The first industrial action cover took place on Wednesday (21 December) as 600 personnel stepped in to drive ambulances and provide direct support to NHS trusts in England. Further cover will begin today (23 December) as 625 personnel are deployed to ensure the security of the UK border …

Payments will be made to personnel for every day they spend training or deployed throughout the period of 19 December to 2 January inclusive. Personnel will receive the payments in their monthly salary, with the net amount calculated as £20 for each day of cover, after tax. This will be funded from the Ministry of Defence's existing budget.
Ben Wallace, the defence secretary, said:
I am incredibly grateful for the sacrifices made this winter by members of our armed forces, who are giving up their time to keep our essential services running and to bolster UK resilience.

While the unions continue to hold our public services to ransom, it is only appropriate our people are compensated for having to go above and beyond their usual tasks at short notice.
GMB pushes back next ambulance strike until after holiday period in response to 'amazing' public support
A planned post-Christmas strike by ambulance workers in the GMB union has been suspended after "amazing" public support for industrial action this week, the union has announced.

Members of the union were due to stop work on 28 December in an increasingly bitter dispute over pay and staffing, PA Media reports. But that has now been called off and instead a strike has been scheduled for 11 January.

Explaining the decision, Rachel Harrison, GMB national secretary, said:
We are overwhelmed by Wednesday's amazing public support for our paramedics and ambulance staff.

People across the country have been wonderful in backing us and we care so much about them too.

That's why we are suspending the proposed GMB industrial action on 28 December.

We know the public will appreciate being able to enjoy Christmas without any additional anxiety. They support us and we support them.

The workforce crisis in our NHS is so severe and our commitment to getting ambulance staff the proper pay they deserve is stronger than ever, so we are scheduling a further date for action on 11 January 2023.
Pat Cullen, general secretary of the Royal College of Nursing, says her union is calling more strikes for January (see 11.12am) because the government left it with no choice. She says:
The government had the opportunity to end this dispute before Christmas but instead they have chosen to push nursing staff out into the cold again in January. I do not wish to prolong this dispute but the prime minister has left us with no choice.

The public support has been heartwarming and I am more convinced than ever that this is the right thing to do for patients and the future of the NHS.

The voice of nursing will not be ignored. Staff shortages and low pay make patient care unsafe – the sooner ministers come to the negotiating table, the sooner this can be resolved. I will not dig in, if they don't dig in.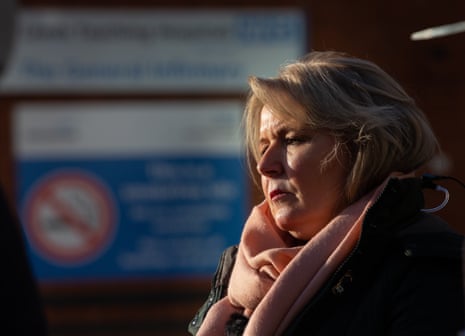 Covid-19 infections have continued to increase in England and Scotland, while the trends were uncertain in Wales and Northern Ireland, PA Media reports. PA says:
The total number of people in private households in the UK testing positive for coronavirus stood at 1.4 million in the week to 9 December, the Office for National Statistics says.

This is the highest UK-wide total since the end of October.