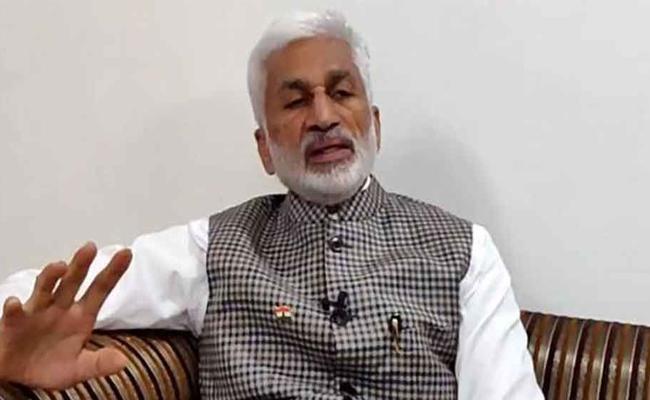 A series of articles published by Eenadu newspaper on alleged land deals in Visakhapatnam involving the family of YSR Congress party general secretary and Rajya Sabha member V Vijay Sai Reddy has become a major irritant for him.
So much so that Sai Reddy on Tuesday announced that he would soon enter the media arena – launch a newspaper and even a TV channel to tackle 'Ramu', as Eenadu group president Ch Ramoji Rao chose to refer to.
"I don't want to call this man Ramoji because he has the respectable letter 'ji' that he doesn't deserve. I will call him only as Ramu. This man of dark background has no moral worth and is of illegitimate birth," said Sai Reddy, using the harshest abuses against the media baron.
The YSRC MP said that Eenadu newspaper had become worse than a Telugu Desam Party pamphlet, "As Ramu owns a newspaper and a TV channel, he is engaging in character assassination. Here is my challenge. I will enter the field of media. I will launch a newspaper and a TV channel. running with my money.'
He said if he got upset any more, he would go into real estate as well. "Let me see what you can do and I'll show you what I can do," he said.
Sai Reddy alleged that Ramoji Rao started his career as a civil servant and rose to wealth by usurping GG Reddy's properties and companies, committing fraud.
"He made money by robbing people, not by selling pickles. I wonder what he is eating: meals or something else? How will he write such scandalous stories?' he asked.
Describing Eenadu and other yellow media as "caste-based" media, Sai Reddy said people spit on such papers.
"My daughter and her family have been involved in various industries including pharmaceuticals, infrastructure and real estate sectors for the last 40 years. They are doing business honestly, unlike Ramoji Rao. They have business projects in 100 countries and their pharmaceutical company is among the top five in the country. there is," he said.
He wondered what his daughter's possessions looked like.
"Can Bharat Biotech be called a Ramoji Rao company? If Sailaja's daughter buys any properties, are they her father U Sunder Rao's? I have no properties in Visakhapatnam except a flat," he claimed.
Sai Reddy testified that he was prepared for any kind of inquiry, even by CBI or ED or even FBI. "Are Ramoji Rao and Chandrababu Naidu ready?" he asked.