An elementary school was placed on lockdown Tuesday morning after a student brought a gun to the school in Northeast Philadelphia, police said.
Principal Louis H. Farrell School, in the 8300 block of Castor Avenue, placed the school on lockdown around 8 a.m. when a parent called to report that a student had brought a firearm into the building, according to authorities.
According to the police, the student was arrested and the weapon secured.
No other weapons were found, and when officials deemed the school building safe, they lifted the lockdown around 9:30 a.m., the school district said.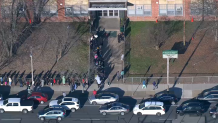 SkyForce10 was overflowing, dozens of parents and guardians came to the school to pick up elementary students. Many who spoke to NBC10 said they are relieved no one was injured.
"It's the worst feeling ever, man. That's my biggest fear," said Anthony Adames, holding his nephew's hand outside the school. "I waited about an hour or two."
The district said regular classes would continue for those still in school. Counselors will also be available for students who may experience anxiety during lockdown.
This story is developing. Check back here for updates.
Sign up for our Latest newsletter to receive the most urgent news in your inbox.