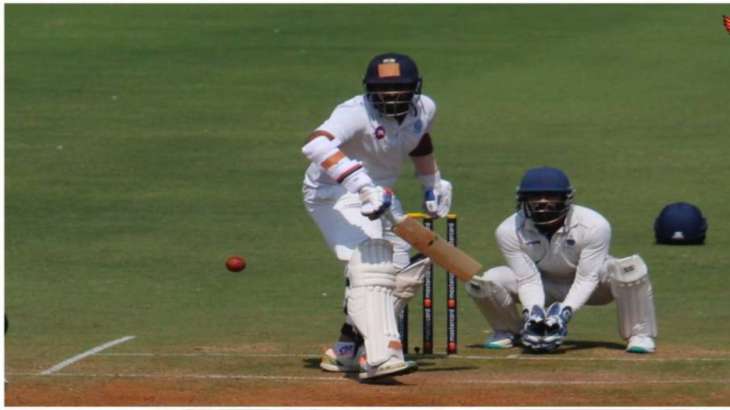 In the quarter-final of the Ranji Trophy between Andhra Pradesh and Madhya Pradesh on Thursday, Hanuma Vihari showed his heroism by not only joining with one hand, but also by making an incredible reverse shot in the game. As in the first innings, he showed great spirit in the second innings while captaining his team Andhra Pradesh, coming out to bat at No. 11 despite breaking his wrist.
The right-handed batsman played left-handed to avoid further injury to his broken wrist, also batting with one hand most of the time. Vihari valiantly scored 15 runs to take the team's 90-plus score. He hit three fours in his 16-ball innings.
Madhya Pradesh have held firm in their match against Andhra Pradesh thanks to a brilliant performance by fast bowler Avesh Khan. Avesh took 4/24 to give Madhya Pradesh a chance to bounce back in their Ranji Trophy quarter-final clash against Andhra. MP bundled out the Andhra batsmen for only 93 runs in the second innings on the third day of the match in Indore. Chasing 151 runs in the first innings, Madhya Pradesh set a target of 245 runs to win and by the end of the day, the team had scored 58 runs for no loss.
Hanuma Vihari was forced off the field on the first day of the match due to a fractured left wrist. He suffered this injury while tackling a bouncer from Avesh Khan. On the second day of the game he returned to the field and joined with his left hand to protect his wrist.
When Hanuma Vihari was injured, he scored 16 runs in 37 balls. After the injury, the X-ray report showed a fractured wrist. He was advised to stay away from the game for five or six weeks but he did not agree. As in the second innings, he returned at No. 11 with a broken wrist. Vihari scored 27 runs in 57 balls with the help of 5 fours in his valiant innings.
Latest Cricket News